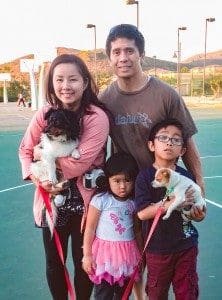 Mika has been a foster extraordinaire for The Rescued Dog! She's coming up on her year anniversary volunteering with us and has fostered over 10 dogs in that time. We count on her quite often to take various breeds of the smaller guys, and she's always up for the challenge. Mika got into fostering after her beloved cat died after 17 years and they moved into a new place with a yard. Her kids were a bit scared of dogs so she wasn't sure if it was the right time to adopt; instead, she gave fostering a go. This turned out to be the best decision—her kids have gotten lots of experience with dogs and are now walkers, cuddlers and helpers to all their fosters. Recently, the Manzo family foster failed (as most TRD team members have!). Pixie was the only dog their cat openly welcomed and although she says it wasn't the dog her husband had in mind for their family dog, he was the one who suggested keeping Pixie! We love these stories; when a dog takes someone by surprise and they fall in love with what wouldn't be their "ideal dog". Another reason fostering is so wonderful—experience with all types and sizes—you never know who you'll fall in love with.
Mika was born in Japan, grew up in San Diego and spent 10 years living in Hawaii. She has always loved animals; in the past, she's worked in an animal hospital and spent time pet sitting. With two kids, fostering and all her hobbies- Mika's a busy woman. When she's outside, she's at the beach bodysurfing or training for a half marathon. When she's inside she's crafting and sewing; all in between training foster dogs and being a mom! Mika has recently submersed herself in another hobby- photography. Some of the beautiful pictures you see of our rescue dogs on our site are Mika's photos.
We are so thankful for Mika and her family for taking on this foster role. A couple stand out dogs she's had? Captain Hook was one of their favorites, providing a lesson to her family that a dog with a disability can still have an amazing fulfilling life. Her other favs were Donny and Dolly whom she fostered together. Her family loved watching these two bond and go to their forever family together!
Thank you Mika and family for being such a wonderful foster family for so many TRD dogs. We are so grateful! This is an example of how fostering can change lives—the lives of the foster families who learn and grow from such enriching experiences, the lives of the dogs who are saved and learn trust and love in their foster homes, and the lives of future forever families who are waiting to connect and fall in love with that special dog.