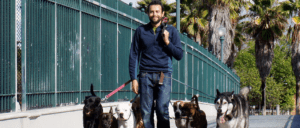 Rounding out 2016 for our Volunteer Spotlight is our one and only amazing dog trainer, Fernando Steffey. We can't imagine where we (and some our pups) would be without the knowledge, commitment and support of Fernando over the years. His training philosophy teaches a holistic approach with a leader/follower basis and positive reinforcement. All of us at TRD have seen him transform one or two of our foster dogs into completely different dogs with boundaries, confidence and respect that can then be integrated well within families. Fernando and his kindness, patience and skill helps TRD to set up families for success with their new family members.
Fernando was born in San Salvador and raised in Salt Lake City, Utah. He has a degree in elementary education from the University of Utah. After living in Park City, and Bend, Oregon (with his dog Floyd) he then settled in San Diego. In 2012 he got married to Ashley, (our other "dog whisperer") who is TRD's Rescue Coordinator. Fernando and Ashely were heavily involved in volunteering at another local dog rescue when Fernando began to see the need for working with kenneled dogs and their adopters to better prepare them for their transition to family life. One of the first dogs he helped was O'Ryan an Aussie Cattle Dog who was a guarder. As he became more interested in complex canine behavior and wanting to deepen his knowledge and skill, Fernando worked with renowned dog behaviorist, Randy Davis. In 2014 Fernando opened up his full time business, Canine Education. Fernando sees a future for Canine Education as a brick and mortar training facility where he can hold group classes and train trainers.
In Fernando's spare time he thoroughly enjoys San Diego's famous craft beer scene—choosing dog friendly breweries to enjoy a good beer. (We are happy to mention most breweries are dog friendly here in SD!) He also enjoys college football season, classic rock music and hanging out with his own canine pack. Personal dogs of Fernando and Ashley include, Floyd, Thor, Audrey, Tigger, Mylo, and Stella.
With over 400 dogs trained we are so grateful to have his expertise for our shelter pups and their adopters. Fernando truly sets people up for success in their new relationship with their dogs. I asked Fernando what's the biggest mistake people make when adopting a new dog. He said without a doubt, "Giving them too much freedom from the get-go." Dogs need to learn how to interact and gain skills and confidence before we can expect them to manage complete freedom around their family and house. Crate training, at the very least in the beginning, is a great way for pups to manage their new responsibility and house/family manners safely, setting them up for success. After the human-dog relationship is established freedom can be gradually increased.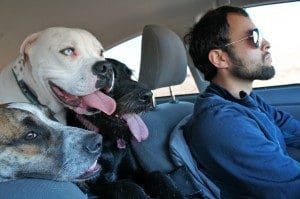 Thank you Fernando for all you do for The Rescued Dog, foster families, adopters, shelter pups and families all across San Diego. You single handily help families start on the right foot to ensure a successful canine-human relationship, you help families to overcome challenges, and you've saved dogs from being rehomed or abandoned in shelters with your expertise and skill.