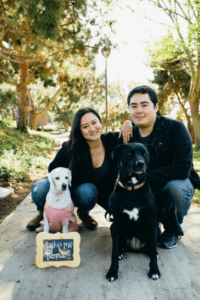 We have a special story for our highlight this month that captures the true essence of what it is to be an animal advocate and dog lover. Autumn, a 5-year-old cocker spaniel, had an extremely rough beginning. Sheila and Eric discovered poor Autumn living in a yard of a neighbor 24 hours a day, 7 days a week without shelter, proper dog food or normal human contact. Autumn was eating human food scraps and appeared extremely unhealthy. Sheila and Eric knew they couldn't witness this treatment without doing something about it. After they noticed a growth from Autumn's ear, they convinced the owners they needed to seek medical advice. A TECA surgery was needed (total ear canal ablation, where the entire diseased ear canal is removed) due to chronic untreated ear infections. Sheila and Eric convinced the owners to allow them to take her in as their foster, help her recover and find her a better home. Unfortunately for Autumn, her road to health was quite bumpy. After surgery, part of her outer ear was not receiving blood flow and was terribly painful and necrotic, requiring a second surgery a couple weeks later. Shortly after her second surgery, Sheila and Eric noticed Autumn was lethargic and rushed her to the ER to find she was in an emergent state of diabetic ketoacidosis. Autumn was stabilized and now needed daily diabetic care with blood sugar checks and insulin. On top of that, this poor girl had some masses discovered that ended up being internal burns acquired during surgery from the electrocautery instruments. Many treatments and dressing changes later, her skin has healed. Throw in her arthritis and this girl has had one long road! Sheila says you wouldn't even know it though, as she's happy as can be, follows her around, wags her tail non-stop and plays with their dog.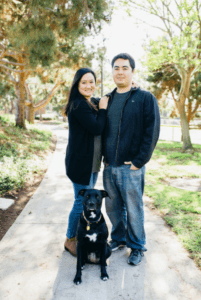 It was during this medical spiral, with massive vet bills that Sheila and Eric were assuming responsibility for, that she reached out to several rescues for help. TRD was the only one to respond to her and we knew after everything Sheila and Eric were doing for Autumn we had to help them. We offered to make Autumn a TRD dog, taking on her medical responsibility and finding her a forever home, while they continued to foster her in their loving home. Many months later, Autumn's old life is far behind her and she is getting her forever home this week!
Sheila and Eric are from San Jose and have lived here in San Diego for the last 11 years. They are bonafide dog lovers with a black lab/pit bull mix of their own named Pepper. Sheila has animal caretaking in her blood; her grandmother still raises strays from the streets of Taiwan. Autumn is not the first dog Eric has taken responsibility for in an unfortunate circumstance—he assumed care of a corgi for a couple years during college when someone left him in his apartment! These two are true animal advocates. We are so thankful they helped get Autumn out of a terrible situation, provided so much medical care and gave her such a loving place to heal from all her wounds. Thank you, Sheila and Eric!
*Photography by www.vacayphoto.com