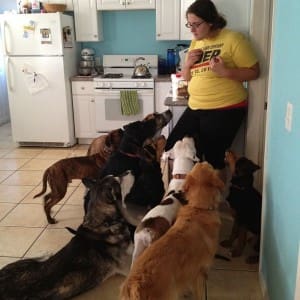 This month we are taking our Volunteer Spotlight right down to the nuts and bolts of The Rescued Dog. Completely run by volunteers, TRD has an incredible team that does a great deal of work, spending a lot of time on rescue related needs. This includes numerous people that spend countless hours in areas of foster coordination, events and fundraising, writing (blogs, education, grants etc.), coordinating donations, managing volunteers/needs, coordinating adoptions, financial/legal, marketing, database management and much, much more!  All these "jobs" are dependent on TRD saving awesome dogs out of high risk shelters to be adopted.  Here's where our own TRD Co-founder and Rescue Coordinator, Ashley, comes in.
Ashley's animal connection began while growing up on a farm in MN and she has a long history helping shelter animals. She started volunteering at a Humane Society in St. Cloud, MN when she was 14. At 16, she requested dog and cat food for birthday presents and donated over a 1,000lbs to the humane society!  After moving to San Diego she found herself at a shelter in Devore trying to adopt a sick dog and seeing firsthand the incredible need for help in this overcrowded, high kill shelter. While talking to a rescue networker, she found out transporting animals was the biggest need. Transporters: people who willingly load their car to the brim with dogs/cats/rabbits (even the occasional chicken) and hit the road to various rescue groups. It was then Ashley and her Prius began the journey of rescue work. She's had as many as 17 dogs each in their own crate packed into that Prius! Coined the "Prius of Freedom", more than 50,000 miles have been put on her car saving and transporting dogs since 2010.
Ashley and her partners started The Rescued Dog because they knew they could do rescue differently. Dogs need to be in foster homes where they learn house manners, security and love. This prepares them for an easier transition to their forever home. When dogs are kenneled, shelters and rescues have dogs returned frequently for house training, owner guarding, separation anxiety, etc. – all behaviors not easily identified in a kennel setting. Foster homes provide the opportunity to target these behaviors and provide additional training when encountered. The crew at TRD are always amazed by Ashley's super powers to pull awesome dogs. She has an incredible intuition and knowledge and we trust her judgment completely when pulling dogs for the rescue. She and her husband, Fernando, a dog trainer himself, have spent a great deal of time learning and teaching dog behavior. We lean on Ashley all the time for her incredible assessments, information and advice on all of our TRD dogs. She is TRD's very own "Dog Whisperer".
We, at TRD, know Ashley puts in A TON of hours to the rescue. She's either driving to shelters to get dogs, driving around San Diego to vaccinate our dogs, coordinating with vets for our medical cases, emails/admin tasks, coaching foster families with their new dogs, coordinating with shelters to get more dogs and training her own foster dogs …she is always working for the dogs we just saved and the ones we are about to save. When asked about how many hours per week she devotes to TRD work she said, "I don't think I should answer this question… it's a large number! Way more than my 'real job'." When asked the most rewarding part of rescue she says it's by far the updates we get from our amazing adopters. One word that describes the feeling of rescue work for Ashley? Hope.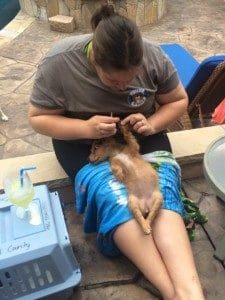 The long term goal for Ashley is to get back to living on some land and run The Rescued Dog's Sanctuary someday —it would allow her (and the dogs) the time and space to work with dogs needing advanced training. Ashley's partners and rescue friends cannot say enough about her commitment and dedication to rescue work.
"Ashley is the driving force behind our organization. Her super power is pulling great dogs. She seems to know instinctually which dogs are great, and which ones are diamonds in the rough. Of course it's not instinct entirely. She puts a lot of time and effort into understanding dog behavior, and she puts an equal amount of time cultivating the relationships we have with shelter managers and leaders. In turn, her shelter connections help us save our dogs. I think we can all agree that Ashley's work on behalf of TRD is a large part of why we have been so successful. We really couldn't do it without her." ~Katie Michelmore Co-Founder of The Rescued Dog
"I met Ashley a year ago when she first came to the Humane Society of Imperial County to start pulling our dogs. She has been so supportive of our tiny little shelter. She'll take our hard medical cases and she's always there to lend a helping hand. We are truly blessed to have Ashley in our corner; she has driven down to help take pictures of animals, she has brought us food when needed and she has helped us do our very first adoption event in San Diego. We love Ashley and all of The Rescued Dog's team, we wouldn't be saving so many lives without Ashley's help and support." ~Mikey Garcia, Networker/Rescue Coordinator for Humane Society of Imperial County
"Ashley is the backbone of TRD. The amount of work she puts into this rescue is incredible— her commitment, work and passion for rescued dogs is amazing. Someday I will sew her a Superhero Dog Temperament Tester cape!! She's awesome and I'm so happy I get to work with her." ~Alana Lawler Volunteer Coordinator for The Rescued Dog