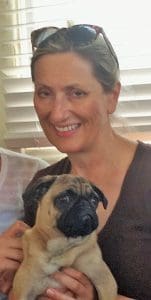 We always talk about our incredible foster team at The Rescued Dog. It's true, our foster families take their "jobs" very seriously; doing everything they can to integrate these pups from shelter life to family life. Linda is one of TRD's most dedicated and loving foster moms, always ready to take on any rescued pup to shower with love and security. It's really important for a foster based rescue to have some "go-to" volunteers that will step up in a pinch, take on a challenge, or be a super solid foster home that we know we can place most any dog at any given time. Linda, with her huge heart, is one of those volunteers for us.
Linda grew up in Colorado and then landed in San Diego after she lived in London for 10 years. She tells us her family dog growing up, a Boston Terrier, was the best dog ever. Here in SD she is a real estate planner for San Diego Gas & Electric. (That's her "real" job, but we know at heart she is a foster dog mama 100% of the time.) Linda's own dog passed away about a year and a half ago and she wasn't ready to fully give her heart to another dog right away so she decided to try fostering. It's safe to say she was hooked instantly, as she's fostered 12 dogs so far in the last 18 months! Besides getting to know all the different dogs themselves, Linda also loves fostering for the connections she's made with like-minded people. We couldn't agree more—our TRD family and supporters make for some really fun get togethers where we can all be our own crazy dog-loving selves with each other.
Linda's list of foster dogs include Willow, Rusty, Freya, Bernie, Kramer, Opal, Lulu, Quippers, Sapphire, Sunshine, Snoopy and Barney. We asked if she had a favorite and spoken like a true foster mom she said, "All were my favorites". However, the closest to a foster failure was Opal but she just couldn't get along with the cat. Linda even had a pet communicator discuss it with her and she was better for a bit, but she just couldn't help herself when it came to cat chasing! Linda's hobbies include fostering pups (we love this answer!) and traveling. Her favorite destination is Greece. On her list of places to explore is Iceland and the southern tip of South America. Linda's favorite book she reads about every year or two is To Sir with Love (a memoir about prejudice and racism in London in the 1940's) and her role models are strong women leaders. Linda not only helps us and the pups by fostering, she also supports TRD by coming to our fundraisers and functions almost all of the time! We love spending time with her and love placing our special pups in her home where we know they will consistently be loved and cared for while they transition and await their forever homes. Thank you for all you do, Linda, you are a fantastic member of the TRD team!!