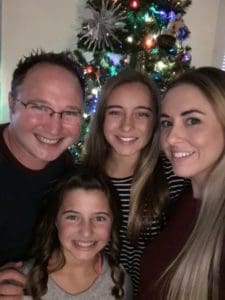 We ended 2016 with a Puppypalooza of sorts with 2 litters up for adoption, so we thought it appropriate to spend the first couple of months in 2017 recognizing our fantastic foster families to these litters! First up is Erin Talley and her family who took on pregnant Sage who was expected (best guess) to have 4 puppies. Sage, rescued as a young stray, was underweight and had struggled with some GI issues from the get-go. Erin spent time trying various foods, home-cooked meals, numerous trips to the vet (stool samples in tow!) and lots of love and patience to help her get healthy. When Sage went into labor Erin was fascinated and involved, texting the TRD team as things were happening. We got the "4 th healthy puppy" text. Then came a "bonus puppy!" text. Then "Another!" and "Another!!!". Little Sage, a pup herself, gave birth to seven healthy puppies. The work of a super dedicated foster mama began. Sage's pups were known as the "Spice Puppy" litter; Basil, Ginger, Pepper, Cinnamon, Mint, Rosemary, and Clove.
Erin was born and raised here in San Diego and had also spent time in other areas including TN, NY and No Ca. Erin's family includes hubby, Gene, ex-Marine, daughters, Alyssa 16 and Jennifer 10 and two cats, Sunny and Daisy. Sunny came from a litter of a stray Erin's sister took in back in NY. Erin and Gene moved across the country with him when he was 6 weeks old. He's the alpha pet in the house, dogs be damned. Daisy was rescued from the shelter here on Gaines St. when she was about 7 months old. Erin has a long list of childhood pets ranging from dogs, cats, hamsters to a rabbit. As a young girl her Chocolate Lab, Toby, would get out of the yard and go see her on the playground at preschool in Ventura. Lady, a Border Collie, was another childhood dog she adored. When she and Gene married they had Rottweiler/Aussie brothers, Max and Jake. Max ended up having Parvo and Erin and Gene nursed him back to health through that scary ordeal. When Erin and Gene moved to NY they had difficulty finding a rental and felt they couldn't provide what two large puppies needed. Gene's brother ended up adopting these two and taught them to be the most amazing dogs, says Erin.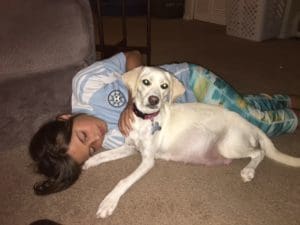 Erin decided to foster after visiting the shelter for years on and off wishing she could adopt a dog, but her rental had a no dog policy. Once they bought their home she went back to the shelter hoping to add a family member but the 2 dogs she was interested in were adopted quickly. At that point she thought about fostering instead. Since she falls in love with every dog anyhow, helping to save dogs and foster seemed like a no brainer. She quickly decided she wanted to foster a litter because…. well, puppies!!! Her self-admitted "inexperience" caused her to jump in not knowing really how much work it would be. She says it was all worth it, but it certainly takes a lot of time and patience. The most rewarding part for her is the obvious—puppy love. She says, "It was so precious watching them learn to walk, learn to play with each other, and seeing them become independent little dogs with their own personalities." Erin tells us until about 4 weeks old it's not too hard but after that, once they bark and potty everywhere, it's a true test of will-power to be able to handle it. Erin's advice for anyone considering a litter is to have patience—it's work to clean up after 7 puppies! She says she fell in love with all of them and thought about keeping a couple of them all the time. However, she continued to remind herself there will be many other foster dogs who need her.
Fostering a litter is no small feat. We can't thank you enough, Erin, for not only helping to raise healthy puppies for 8 weeks but also for your love and dedication to Sage to be the healthiest mama she could be. All puppies and Mama Sage have found their forever families and Erin is back at it with 2 adorable foster dogs in her home this month. Thank you Erin for all you do for rescue pups!