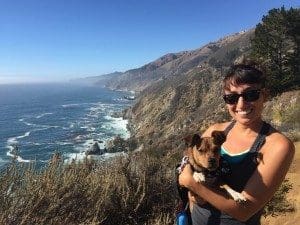 Let us introduce you to one of our amazing Adoption Coordinators, Brittney! We aren't even sure where to begin there are so many great things to say about her. We'll start by mentioning her huge heart! Brittney has a big heart for helping to save shelter dogs. Her selfless giving nature is also apparent in her job as well as in her future ambition to help both animals and people together wither own nonprofit that is in the works.
Brittney grew up on Long Island, NY and moved here in 2013 for her job. She is a research physical therapist at the Naval Medical Center in San Diego where she does research with service members with amputation(s) and/or bad leg fractures.  Brittney decided to foster a dog with us back in February when her boyfriend was away on a training exercise. Brittney saw how much work goes into running a rescue; saving dogs and finding forever homes for them. Brittney immediately noticed how much all of our volunteers put into TRD, so she asked how she could help and get more involved. Well, we knew right away she was a good egg—so we, well… we had her to jump right into the adoption coordinator position! She may not have realized just how involved she would get, but she doesn't regret any of it. She definitely has what it takes to find our dogs the most amazing homes. We are humbled and so appreciative of the amount of time she has given to TRD and the dogs.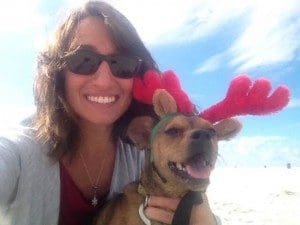 Brittney has grown up with dogs all her life, always having a few in the house. She's joked that her mom, aunt and entire family are all dog crazy! Her own dog now, Otis a 3 year old mutt (Jack Russell, chi, doxie-?), was a rescue dog as well. She was told he didn't have a great temperament and may never be an affectionate smuggler. Otis blossomed with Brittney and is definitely a snuggler now (evidenced by sleeping under the covers with her!). Brittney lives with her boyfriend, who also supports TRD, and his dog, TRD alumni, Ned. Although she's incredibly busy and doesn't have much free time these days, her hobbies include running, hiking and camping (all with her dog of course). Brittney isn't just stopping at helping TRD to save dogs either. She and her mom are in the beginning stages of creating their own nonprofit organization that will help train rescued dogs as service dogs for wounded veterans.  Now that is a huge heart!!
Brittney has had a direct hand in the number of dogs we were able to save and place this past year. Her favorite part? "Seeing the excitement on a family's face when they meet and fall in love with their new dog." We are incredibly lucky to have her on our team. Thank you Brittney for all you do for The Rescued Dog! You are pivotal to our success!