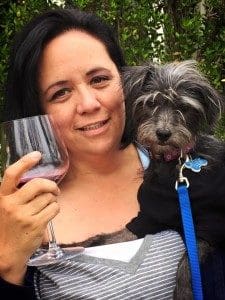 Remember the 7 Harry Potter Puppies??—it was Dani who fostered them (for a total of 9 dogs in her house!). Dani had previously been fostering/volunteering with the San Diego Humane Society and when they didn't have many opportunities for her, she decided to foster with TRD—and boy are we happy she did. Since then, she's been an amazing volunteer and foster. Dani is one of those volunteers that just always seems to help, whether she's organizing what feels like 1 million puppy applications, taking on a new foster, dog sitting another foster, or attending adoption events, she's seriously everywhere!
Dani is a born and raised SoCal girl from her love of the ocean to San Diego's sports teams. She worked 2 jobs for many years, raised her two girls as a single mom (also amazing volunteers with TRD) and took care of her mother for the last five years of her life. Dani knows hard work and what's important in life. Now that she has some time for herself, she's using it to save dogs— it's obviously her passion.
Dani's own dog, Mikki, part blue heeler who was found as a stray puppy in southeast SD, is very protective of her people and always needs to keep her eyes on the girls. Through all the hard times she was right there by Dani's side. The Rescued Dog is so very grateful we've got such a dedicated, wonderful volunteer that is willing to give so much for dogs. Thank you, Dani!
We asked Dani some fun facts about her… here is what she had to say:
I'm a tree hugger! (She's not alone)
I think bottled water is a plague on the planet (agreed)
I am terrified of clowns (good to know!)
I ran a half-marathon (Way to go!)
I crochet (Did you say you crochet doggie sweaters??)
I'm manic about organization and lists (We especially love this…knowing our adoption applications are in good hands!)