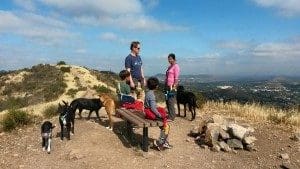 Lihini is one of The Rescued Dog's most amazing, dedicated foster moms. All of our foster families are wonderful, they are all saving lives after all, but Lihini and her foster pup Cassie stand out.  Often times our dogs roll right through TRD: they are saved, they go to a foster home, and they get adopted. Most of the time this happens relatively quickly, averaging 3-8 weeks in a foster home.  However, every now and then we get a medical case unbeknownst to us and quite often we have to share this load, moving a pup from one foster home to another based on what's best for their care, what the foster can provide, vet appointment transportation etc. Cassie initially came to us with psychological issues involving fear, but shortly after getting her Lihini noticed a limp. Cassie had an old injury and she had surgery in an attempt to fix it. Her recovery consisted of casting, rest, vet appointments, re-casting, more rest, and more vet appointments. Lihini brought her to the vet every 10 days for a good portion of her foster life! When it was clear the surgery had not helped the way we'd all hoped, Cassie had her leg amputated. Now happier, more mobile and not in pain any longer she's a happier girl but also still healing from those old psychological scars in the safety of Lihini's home. After 5 months of surgeries and recoveries, we think Cassie hit the jackpot to have Lihini as her foster mom. Lihini stuck this out with Cassie, she's been there for her since day one, seeing her through her long medical road. We don't come by this type of love and dedication every day and we know this is what has helped and continues to help Cassie heal.
Lihini is a professor of chemical oceanography at the Scripps Institution of Oceanography/UCSD. (Wow) Having known Ashley from grad school, Lihini first fostered with us after losing her 13 year old dog. She ended up adopting her first foster 5 days in! She now has 2 rescue dogs of her own and a 6 year old human child along with Cassie her foster dog! We'd say she's pretty darn dedicated (and busy….and probably a bit tired!) Lihini is no rookie to rescue—her previous dogs have been rescues, and she recently lost her rescued cat. When she visits Sri Lanka she is constantly attempting to bring stray dogs home to her cousins, and she's succeeded on a few occasions—they all have a street dog of some type.
When I asked her what she loves about Cassie, she had a beautiful response: "I remember as a kid I read a story (or was told a story) about a dog that sat on his master's grave for days or weeks (I don't remember). I think of Cassie as that dog. I have had many dogs and they have been loyal in their own way but Cassie is special that way.  She is so attuned to me, chosen me as her person (for the moment) and is extremely faithful. She will be that way with the next person that is willing to be patient with her."
Lihini, we are so very thankful for you. We are thankful for the time, love, and patience you have given to Cassie; we could not have asked for a better foster for our special girl! Thank you!