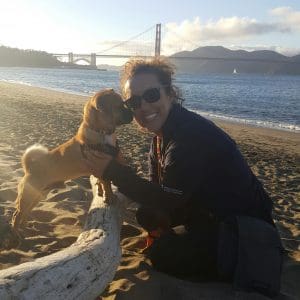 At The Rescued Dog, we're always talking about our fantastic volunteers and foster families. Jessica van der Stad is an "everything" to TRD. She and her boyfriend, Jesse, happily take in fosters (including some medical cases) and are also great supporters in general; attending events and spreading the TRD word. This year Jessica has also jumped in and completely organized one of our biggest fundraisers, Fit for Fido. She's gone above and beyond for TRD and she deserves to be in the spotlight for July!
Jessica grew up in the Palm Springs area and lived in Boulder, Co while attending college. She moved to San Diego in 2008 and with perfect weather, dog friendly places everywhere, great veggie food and beautiful beaches, she can't imagine ever leaving. Jessica works for the American Foundation for Suicide Prevention (AFSP). After losing her dad to suicide in 2008 she became involved with AFSP and became an Area Director in 2010. She oversees chapters in San Diego, Orange, Riverside and San Bernadino counties. Jessica says this is not only her work but her passion –to save lives and bring hope to those affected by suicide.
Jessica's love for dogs began as a kid. She says they were 'that house'; always with a pack of rescue dogs. With deep admiration for her mother, Jessica describes her as always stepping up to help rescue, save and care for animals. Leading by example, she taught her kids to do the same. Last September, Jessica and Jesse adopted Abu, a TRD pug they were fostering. Since then they've also fostered Jazzi, Gigi (mama and pups!), Jeffrey, Percy, Koda as well as other short stay temporary pups. Jessica and Jesse have a soft spot for pugs; 3 foster dogs and Abu are all pug mixes. She says they've loved each foster dog equally and she cried when each one got adopted. Percy the pug was extra special because she spent 10 weeks with them while she recovered from mange. Jessica says fostering fills their home with love and is incredibly rewarding. We just love that their home is open and welcoming to shelter dogs!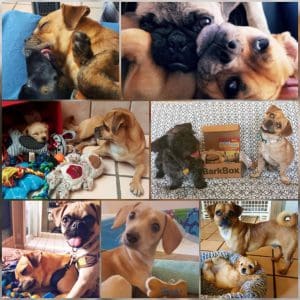 As if fostering isn't enough, Jessica also took on a fundraising endeavor for TRD last March. Jessica has a background in fundraising and took it upon herself to offer her expertise to run our Fit for Fido event. The CrossFit gym she belongs to, F3 Athletics Home of Imperial Beach CrossFit, gladly hosted our event (we can't say enough about how awesome they are!). Jessica really did an incredible job running this event and raising money for shelter pups. We thought it would be a small community event but we ended up with close to 100 people and raised over $3k! Jessica is hoping to make this an annual event (So are we!!).
In her free time (besides volunteering for TRD) Jessica loves to travel and stay busy. Abu has been a great travel companion, flying with her to San Francisco, Boston and Orlando! (Go ahead, follow Abu's adventures in Instagram- @about_abu) Jessica studied abroad in college and visited dozens of countries. Some of the most fascinating for her were Egypt, Jordan and Israel. Next month she is flying to Alaska to provide suicide education and training. Toksook Bay and a small Yup'ik Eskimo village of about 500 people on the edge of the Bering Sea are on the itinerary.
A couple fun facts about Jessica: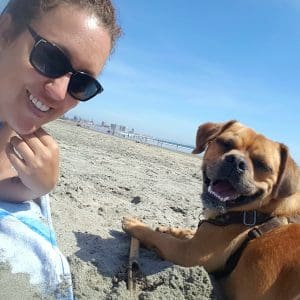 ~Favorite movie- Step Brothers- whenever she needs a good laugh it's her go to.
~If she had a superpower it would be Superhuman Endurance—she says she could run marathons, clean the house like crazy, answer a thousand emails and take care of dozens of foster pups with ease!
~Favorite quote: "Happiness is a warm puppy." ~Charles M. Schulz
Jessica is a wonderful volunteer and foster. She is incredibly supportive, dependable, fun, down to earth and a true friend to the rescue. We appreciate everything she does and are so lucky to have her in our corner! Thank you Jessica!