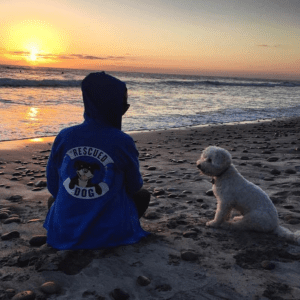 The Rescued Dog is honored to be featuring one of our founders, Kathy Toomey, for August's spotlight volunteer. Rescue work is not easy; it's emotional, time consuming, exhausting, challenging, and frustrating at times. To run a successful, ethical, supportive, proper rescue it takes immense dedication, love, tough skin, a positive attitude, lots of teamwork and a hell of a sense of humor. Enter, Kathy.
Kathy's road to rescue is such a great example because she began as most of the general public still is today—with limited knowledge of pet overpopulation, where or how to obtain a dog and a lack of knowledge of the staggering numbers of dogs in shelters being euthanized. Growing up in Philly, PA, Kathy's family had cats but did not own dogs. No matter how much she begged, they were not allowed to have a dog. She says of her childhood, "Born and raised on the streets and playgrounds of Philly, like Will Smith." (Haha!!) As a young adult, Kathy's first dog was a bulldog, Sophie, bought from a breeder for 2k. She was a first time dog owner without a deep understanding of dog ownership. The breeder did not ask her any questions about her knowledge or preparation for owning a pet (much less bulldogs who are predisposed to various medical ailments). Immediately, Kathy began researching and learning about pet ownership and quickly learned about the millions of dogs in shelters. This early interest in the pet overpopulation crisis led her to visiting a shelter one Christmas eve where she fell in love with a sick, senior lab sleeping on the cold concrete floor. She wasn't affiliated with a rescue so she wasn't allowed to adopt him (certain dogs in shelters are only allowed to be 'pulled' by approved rescues). His face haunted her. Shortly thereafter he was euthanized. Her heartache, new found knowledge and animal loving passion led her on her journey to become actively involved in dog rescue. Although most people who learn about rescuing over buying from breeders end up becoming part of this movement by rescuing/adopting their own furbabies, most will not go to the extent Kathy did to start their own rescue! Kathy's journey is so important to share because it's rooted in education; educating oneself and then acting on that new knowledge to create change.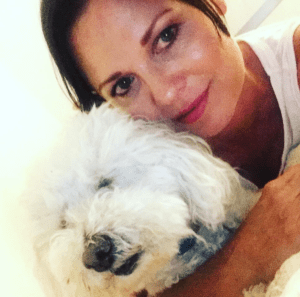 Kathy, an RN, has that innate caring and compassionate nature. She moved to San Diego in 2005 on a 6 month assignment as a travel nurse and never left. She volunteered at another rescue where she was an adoption coordinator, poop cleaner upper, nurse to sick pups, dog walker and mentor to other volunteers. After becoming close with TRD's other founders during their volunteer work, this amazing group of women decided to start a rescue of their own. With TRD Kathy wears many hats. She was initially the lead Adoption Coordinator and then changed avenues and is now our Events Director as well as a board member. Kathy is a natural events planner; with her super social personality and love for throwing good parties! She puts in many hours each week organizing fundraisers and happy hours, while also supporting the adoption team doing home checks and adoption meetings. Kathy has three rescue loves now, Buddy, an 11 year old Poodle/Bichon mix, Wookiee, a terrier mix, and Kadence, a Basenji.
Kathy is a key player to TRD, helping us to continue to grow and become more and more successful. She has tons of motivation, an incredibly positive nature, immense dedication and a sense of humor that keeps us light and laughing during some of the more difficult times in rescue. TRD could not do what we do, as well as we do it, without Kathy! I asked Kathy one thing she would like to teach the world about pet ownership. She says, "It all falls under the same category, the pet population. The importance of spay and neuter, and how important it is to rescue over buying from a breeder. It's much easier to rescue over buying because the transition goes smoother when you adopt a dog that's been in foster care.  TRD gives you a support group to set you up for success!"
More fun facts:
If Kathy had a superpower it would be to make the world love, cherish, respect and co-exist with animals.
Kathy admits to being a reality TV junkie, but at the moment her favorite TV show is Homeland.
The place she most wants to travel? Thailand. We're sure she'll get there.
Thank you, Kathy, for all you do to save pups, educate people and help run TRD! We are so fortunate to have you on this team!