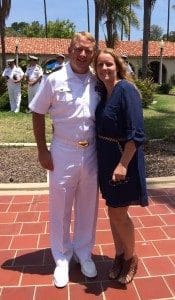 The Rescued Dog is very, very lucky to have Bobbi. Bobbi is a long time, avid foster that jumps in whenever we need her. She has helped us out in a pinch many a time—and most of these times it's for fostering puppies! She's taken on pregnant mommas directly from the shelter and fostered them the entire time; from pregnancy, birth, to 8 weeks. Bobbi is one of those solid volunteers that we rely on; there are several dogs that would not have been able to be saved without her in our corner.
So what's the driving force for Bobbi's volunteerism and love for animals? She grew up on a farm in upstate New York where her passion for animals began. She had cows, pigs, chickens, a few barn cats, and of course a dog or two running around. Dobermans and Labradors were the common breeds in her childhood.  Bobbi's very first job was at a dog boarding facility. She also worked at pet stores, was in 4H, and pet sat for neighbors.   In 2002 Bobbi went to vet tech school and worked as a tech for several years.  At her favorite vet hospital, located in a Humane Society in Boulder Colorado, she started learning about the shelter process, and thus began her overwhelming desire to help.
Bobbi is a big believer in giving back to your community, finding something that inspires you and making a difference. When I asked Bobbi what keeps her coming back for more fosters? – She answered, "I believe I can make a difference. I think if everyone took responsibility we could really get this overpopulation problem under control.  So I try really hard to move forward and active without getting overwhelmed and burnt out." Her biggest reward? "Happiness and what happens when we match the right dog with the right family."
Currently, in her home (besides her adorable kids), all her animals are fosters—one puppy and 2 kittens from a cat rescue she also works with. Bobbi is on foster #14!!
From the bottom of our hearts, Bobbi, thank you so very much for being a part of the TRD team.