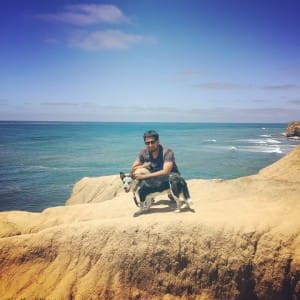 With each dog we rescue there is a lot of manpower put into each one. Besides physically getting the dog, making sure we have a foster and then financially backing and vetting each one, there's another element to helping our dogs find their forever homes. Rah is a man of both worlds as our Marketing Lead and foster, he helps us out on all fronts. Rah keeps our branding on track and looking good with our marketing material. Our t-shirts, business cards, fundraising fliers, dog bio cards, and eye catching banners on our Facebook page (and much more marketing collateral, both digital and social media) are all products of Rah's talents from his product design background. This behind the scenes help is crucial to getting our dogs adopted, helping us to connect to our supporters and of course grow our rescue. Rah doesn't stop with marketing help though (and we give him A LOT to do!), he also fosters pups for us. Rah and his wife, Pooja, take foster dogs right from the shelter and provide them with the much needed love and safety they haven't had. He's a fantastic team member of TRD!
Rah grew up in NYC and spent time living in NJ as well as upstate NY. This east coaster moved here for some sun and a change of pace in 2014 (our gain). On the east coast he and his wife volunteered with See Spot Rescued in Jersey City and at the Liberty Humane Society.  Rah's desire to volunteer with dog rescue began back in design school. He spent his thesis year re-designing the animal sheltering system. He had always had a passion for dogs, but during the research phase he was introduced to rescue. He spent hours sitting in shelters taking notes and watching interactions and how dogs were handled/treated, etc. for his final design solution. Rah watched a man bring his dog into the shelter dragging him by his leash, livid and yelling to the shelter staff, "I just don't want the damn thing anymore!!" Rah said, "That was the turning point. Nothing on earth should have to be treated that way." He decided then that he would do whatever he could to help.
Rah has a family rescue dog that lives with his parents named Flake. He calls him the King of Bichons because after he came to live with them, he just kept growing. A standard Bichon usually grows up to about 12lbs, Flake dwarfs even medium sized dogs, coming in at a feathery 33lbs. Rah says it's this guy who began his love for rescue dogs and has even hinted that someday there will be a children's book inspired by Flake on bookshelves.  We asked Rah how he feels about fostering and this is what he had to say, "It's like we're this bridge for these dogs who lost hope and we're giving them a chance at something better. What's so crazy is that as fosters we see these dogs at their absolute worst and through it we get to watch them blossom into the family dogs. No matter how many times we say "We won't fall for this one" we inevitably do." We agree completely. (Not to mention, most of us have fallen for our fostershere at TRD!)
We were also curious about a few other things about Rah:
Role Model: Too many to choose. DaVinci was a crazy dude! He could literally do everything. Definitely something to aspire to.
Favorite Travel Place:  South Africa is holding down the top of my list right now. It's an incredible combination of culture, great food, unparalleled beauty, direct connection between man and nature, and epically delicious wine.
Superpower of choice: It's got to be super strength. Think of all the awesome things you could do.
Thank you, Rah. We appreciate all your hard work in all the awesome ways you help TRD!