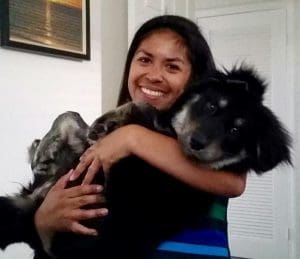 Jessica, Tyler and their two boys are another one of our rock star foster families. We are so fortunate to have them on our foster team. This dedicated family has provided some wonderful care for some seriously sick foster dogs! So far they have fostered McGreggor, Scarlet, Taz, Snoopy and Bella. Scarlet had eye surgery, Taz had a mean upper respiratory infection that required daily trips to the vet, and Snoopy came to them with mange. Bella, the sickest pup we've had in a long time, had a parvo-like illness and was hospitalized for a week.
Jessica took her in emergently when she was lethargic and vomiting. The vet said we were lucky for such fast action as he wasn't sure she would have made it without quick and aggressive care. She was on round the clock medications and was not able to walk at all. Upon her discharge back to the Stone family, Jessica and Tyler truly nursed her back to health. Jessica did some physical therapy work with her to help get her strength back and slowly she began to walk again. It is no doubt that the constant watchful eye, nursing care and love Jessica provided helped Bella through this terrible illness. Bella is now a playful, healthy puppy and ready to find her forever home!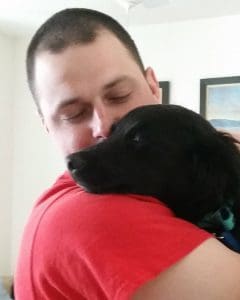 Jessica was born and raised in Chula Vista. She used to work at SeaWorld with our Adoption Coordinator, Dani, who introduced her to the idea of fostering. Who knew she'd end up being such a life saver for some very sick shelter dogs! Jessica works at her kid's elementary school and in her spare time also fundraises for blood cancer research for the Leukemia and Lymphoma Society. She is also currently training for her second marathon! Tyler is from St. Louis, MO and has been in the Navy for 11 years. Tyler recently received the Sailor of the Year Award for his ship out of a crew of 300. Jessica and Tyler met in 2006 after a Padres vs. St Louis Cardinals game and now have two amazing dog loving boys, Jordan(8) and Jacob (7) who are into all sorts of sport including running races like their mom!
The Stones have an 8 year old black lab named Peaches.  They describe her as the most loyal dog a family could have.  (We hear she adores her daddy most even though mommy is the one who takes care of her.)  Peaches thinks everyone who walks in the door is there to see her and pet her.  Jessica says she has been such a wonderful foster sister to all the foster pups.  Peaches favorites have been Taz and Bella. Jessica and Tyler also have 2 cats, Charger and Motoe.  They are Polydactyl which means they have extra toes!  Originally they went to the shelter planning to foster a cat whose owner was being deployed but fell in love with these kittens and their extra toes. When they went back a few days later to pick up the one they adopted, the people at the shelter said, "Oh we couldn't remember which one you adopted because these two litter mates look alike."  Tyler said, "Just give us both of them!"  They drove across country with all 3 animals when they moved back to San Diego.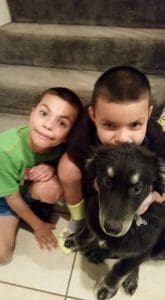 Jessica and Tyler fell hard for foster pups Taz and Bella and say they could have foster failed with them. Jessica says being a foster mama is very rewarding and she's happy she's making a difference in the lives of these dogs. She says if they adopt fosters they won't have as much ability to help save more, so for now they won't foster fail! It is families like this that keeps TRD able to save more and more dogs. We are so grateful to the Stones for fostering, we know the pups that come into their care are truly some of the luckiest! From our hearts, thank you Jessica and Tyler for giving such amazing care to your foster dogs.