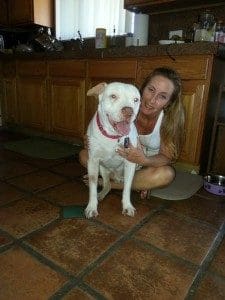 Diana is one of those volunteers that sort of lands in your lap, smiles, offers to help and then hits the ground running and gets results right away. When Diana came on board with TRD and offered to be our Donations Coordinator we were absolutely thrilled. Everyone knows it takes a lot of manpower to keep this rescue running. The Donations Coordinator job takes a patient, persistent, savvy, friendly and dedicated person to procure the amazing and much needed donations that help to keep us afloat. Diana is all this and more for TRD. As a rescue, we obviously want to spend our money on the dogs; providing them with the best vet care possible, and having the ability to take on more critical medical cases when needed. Obtaining donations of treats, food, collars, leashes etc. for our daily use is imperative. Diana puts in a ton of time doing this for us as well as scoring amazing donations like Jeep tours and passes to Wet-n- Wild, Palm Springs to auction off at our bigger fundraisers. She is always on the lookout for products, experiences, contests and helpful connections for TRD. She sends countless emails, written letters and is constantly scouring the internet to find ways to help TRD save money, raise money and ultimately save more dogs.
Diana grew up in Alahambra, CA and now resides in Palm Springs with her 3 dogs. She has two daughters, one of which adopted TRD alum, Pippin! (Who we hear is living the life with her new family and canine bro, Murphy.) Diana has always been surrounded by dogs. One of the first dogs she remembers was a black standard poodle, GoGee. Her family then had a Beagle, Tippy, who lived to be 19! Late in life, Tippy had his own Seeing Eye dog, their German Shepard, who took wonderful care of him. Then there was what Diana describes as a "hot mess" Tea Cup Poodle who caused some trouble around the house. Diana now has 3 dogs of her own. Thai is her beloved Staffordshire "velcro" dog (seriously, attached to her hip she says!). Molly, a German Shepard mixed with what Diana and family think might be coyote, is the protector of the house with a serious hoarding issue. All the toys in the house end up in her crate. Nalla, the latest addition as of a couple years ago always has a sour look on her face, but Diana promises she's totally loving and enjoying her life with her canine siblings.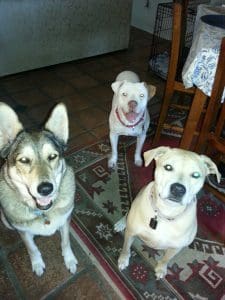 Diana has always had a love for animals and tells us giving back and getting involved in rescue work was an easy choice. She says it's simple; helping needy pups brings her joy. We think she's awesome, dedicated and super amazing at bringing in the goods! Diana works very long hours at her regular job as an Event Manager for a global company specializing in Big Data. While Diana works long hours, volunteers her time from her home, she also drives to San Diego for just about all our fundraisers and events. Did we mention she's dedicated? We are very, very fortunate to have Diana as such an important member of the TRD team. Thank you, Diana, for all you do!