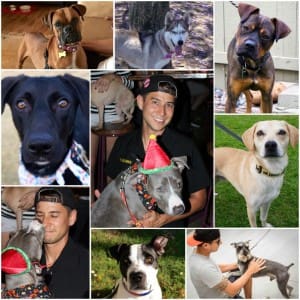 This particular volunteer spotlight is bittersweet for us. Our rock solid foster, Tyler, is moving! We just had to recognize him before he ventures off on his new adventure and let all our supporters know how lucky we are to have had him on our team for this past year.
Tyler has been fostering with us since Jan 2015 and has had 8 fosters (Beatrice, Finnegan, Jade, Kate, Buster, Rocco, Mandi, & Annie!), along with a several others that have crashed at his house for weekends here and there (Ella, Roxie &Trixie to name a few). We've been able to rely on Tyler to take any dog that needed a place; both large and small, he's opened his house and heart up to all pups. Not only does he take great care of his fosters, he also supports TRD in general—he's always willing to hang at an adoption event, talk to potential adopters about his foster, do play dates in the adoption process and attend our fundraisers.
Along with being a great foster, we think Tyler is a great guy in general. He graduated from the Naval Academy in Annapolis MD in 2009 and was stationed in Hawaii and Virginia before spending the last two years here in San Diego. In his free time he plays soccer and tennis, cooks and sails with the Team Fiasco Sailing Team and of course spends time with his foster dogs. Tyler also volunteers at the North Park Library helping kids with their homework twice a week. It's no wonder he's been such a dependable, kind, supportive, awesome foster for TRD! Tyler is moving back to a little town in Pennsylvania, where he grew up and his parents still live.
Tyler started fostering because he grew up with dogs and always enjoyed that companionship but didn't feel that he could make a ten year+ commitment at this time in his life, so he decided that fostering was the best of both worlds. His favorite thing about fostering is watching the dogs grow—"A lot of the dogs we get have had a hard time, and affection is meaningful to them; they can be very timid at first but watching them open up and trust me more and more is very rewarding." We are certain that all the foster dogs placed with Tyler were very lucky dogs; we have no doubt he was crucial in their transition out of the shelter and into family life and love.
TRD wishes him the best of luck and we know the next dog rescue he works with is going to be one lucky rescue!! We feel so fortunate to have had his support this year, he will be missed greatly!
All the best to you, Tyler! Thank you for all you've done for TRD!