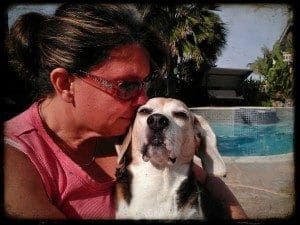 Just over a year ago Ramey came on board with The Rescued Dog as our Foster Coordinator. As a foster based rescue there are a lot of moving parts. Keeping in touch with all of our foster families about how the dogs are doing, finding fosters for incoming dogs, and organizing temporary fosters for vacationing fosters is no small feat! Ramey keeps all of these balls in the air and just when we think we are in a bind, she usually sends out an email that says, "It's taken care of." Sometimes we aren't quite sure what kind of magic she's working, but we are sure glad she keeps the wheels turning! Ramey puts in some serious volunteer time with TRD and she is amazing at what she does.
Ramey was raised in Kansas with dogs all her life. Growing up, her parents, ahead of their time, always rescued their dogs from local shelters. One particular rescue dog, a Pitbull named Ringer, saved her baby brother from drowning after he fell into the pool! A real life "Lassie", he also alerted their family to a house fire by waking them up. Ramey and her family have always had deep connections with their canine family members and were able to save and provide homes for needy pups. In recent years, Ramey and her husband Bob (also an awesome volunteer with TRD), have been the lucky parents to a beagle named Zoe and Max, a cocker spaniel, that both passed away in 2014. Today, Blueberry the Chihuahua and Sassy the Pug, ages 12 and 13 and their long term foster, Quip also a Chihuahua, grace the couches of their loving home. Ramey and Bob are some of the best doggie parents we know, spoiling the heck out of their cute little senior dog family. Along with their dog brood, Ramey and Bob (married for 23 years!) have 2 sons in their twenties living in the Midwest.
Ramey is a huge advocate for raising kids with dogs and has seen firsthand how this incredible bond is so rewarding for children. She believes the importance of teaching responsible pet ownership from an early age is paramount to helping to solve the pet overpopulation problem. Education about spaying and neutering is the first step. Ramey also thinks we (as rescues and advocates) need to help lift the stigma that shelter animals are problem animals. Educating the public, along with streamlining the adoption process to be welcoming and supportive is important to Ramey and exactly what we here at TRD strive to do.
Ramey's passion, dedication, and love for rescue animals not only makes her an awesome person in general, but also a huge asset to TRD. Our foster families, foster dogs and all of us here at TRD are incredibly lucky to have Ramey. Thank you, Ramey, for all your hard work in keeping our foster program running so smoothly!