The Rescued Dog Presents: CeeCee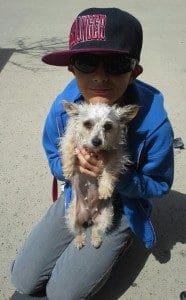 Every once in a while at the rescue, we have a dog available for adoption who continually gets passed over, even though he or she is charming, adorable, and pretty much perfect in every way. We have one of those dogs now. Her name is CeeCee.
CeeCee was one of our first rescues. She caught the eye of a willing foster last February and we pulled her from the San Bernardino County shelter. CeeCee is a ridiculously cute silky terrier mix. She weighs in at around 10 pounds and she is in the 4-to-5-year-old range.
It took CeeCee no time at all to settle into her foster home. She lives with other dogs as well as small humans (aka, children). CeeCee loves kids, and would be great with a family. Then again, she would be great with pretty much anyone because she is so easygoing and low maintenance. She gets along with everyone she meets, both canine and human. Absolutely nothing and nobody ruffles this girl. She immediately took to her crate and mastered potty training after a little training. She is low maintenance in terms of exercise, grooming, and feeding. Mostly she needs the occasional snuggle and some love.
CeeCee is our bulletproof kid. She is the dog we bring to busy events, including adoption events where other dogs of all shapes and sizes attend. At the Del Mar Pet Expo, which was held in a large, open (and loud) space, CeeCee was our Rescued Dog poster child. She spent the entire event at the TRD table, sitting on someone's lap or relaxing on a dog bed as wolf hybrids, gigantic Great Danes, nervous chihuahuas, and everything in between cruised by. She was a perfect lady and managed it all with aplomb. She is trustworthy in every setting.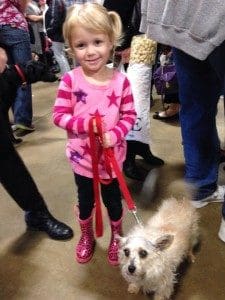 I am the first to admit that small dogs are not really my thing, but, as one of CeeCee's host laps at this event, I can attest to this girl's calming nature. I could literally feel my blood pressure drop as she got comfortable in my lap and just chilled. And lest you think I am being a little melodramatic, there is actual scientific proof that this occurs. She is the perfect lap dog. She is snuggly but not demanding, small but not in any way fragile (I'd even describe her as "stout"), and calm while still having plenty of personalities. It is impossible not to love this little nugget.
CeeCee deserves a forever home, and there is someone out there who deserves all the love (not to mention the health benefits) this little girl has to offer. Please consider adopting CeeCee, or recommending her to someone you know!
Katie Michelmore
Co-Founder
The Rescued Dog